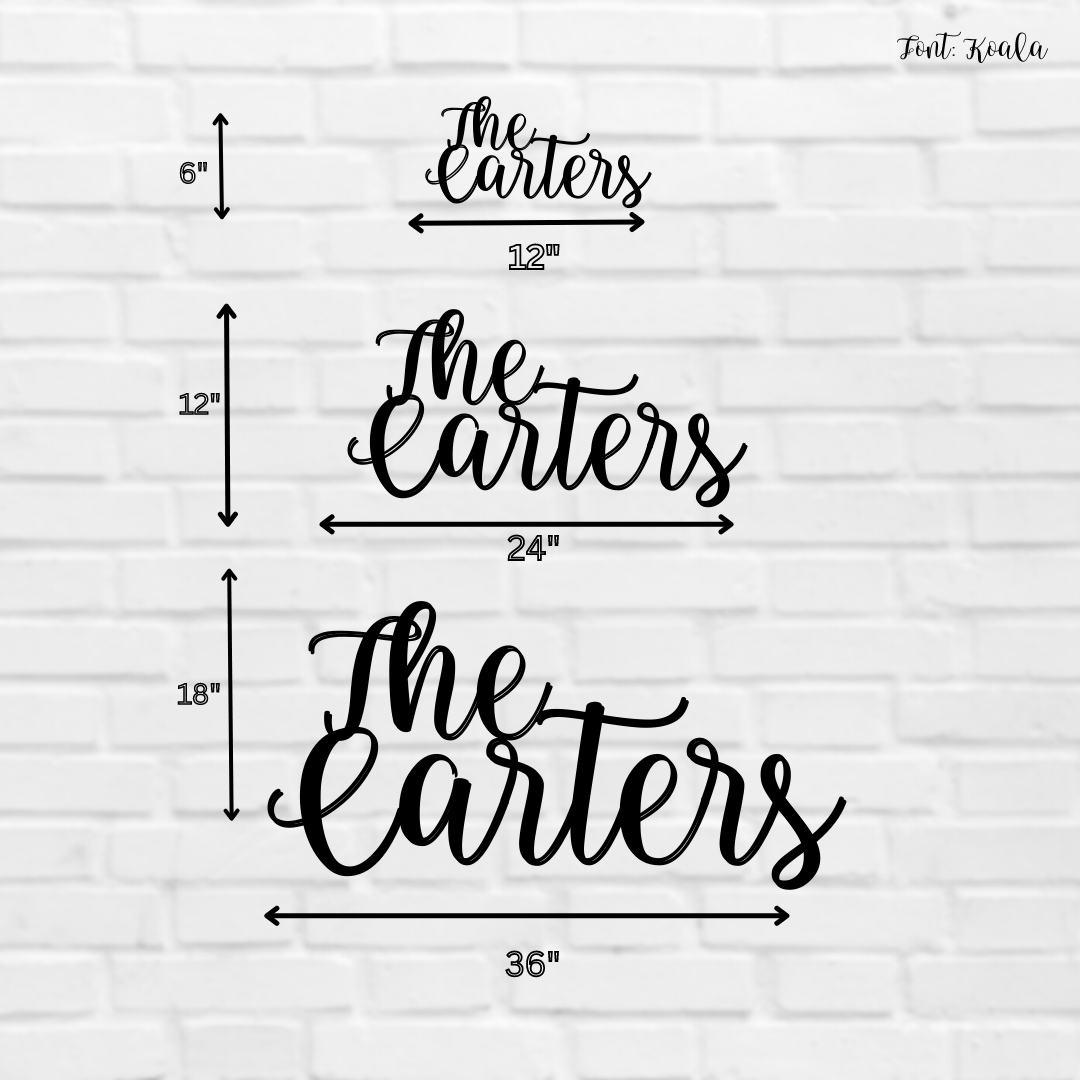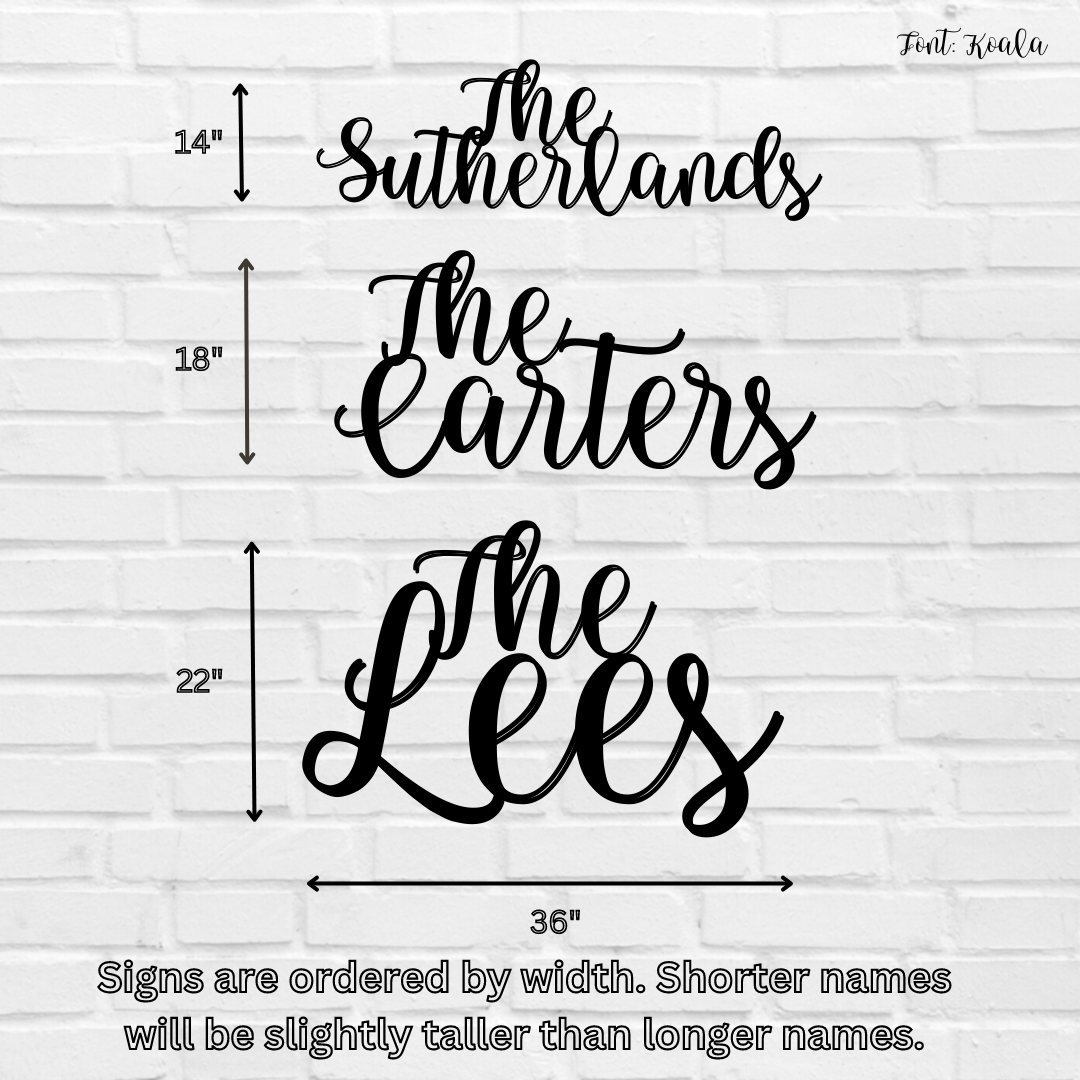 Wood Last Name / Family Name Cutout
---
We're proud of our work, and build products that reflect the highest standards in our industry. If for any reason your item does not meet those standards upon arrival, we will arrange to have your sign fixed or remade at no cost to you.
A beautiful cutout featuring the last name connected to the word "The". It makes a fantastic set piece at a wedding or for your photo wall at home! Choose from tons of colours & fonts to make it perfect for your life

Size
Size is based on total width, with the heights in proportion. Shorter names, & scripted fonts will have larger total heights. If you are ordering a long name, we recommend going a size larger than your measurement. This sign is sold as a single piece of wood, but if you want it larger, we can make it in multiple pieces. Email team@sticksanddoodles for a custom quote on a larger size! 

All letters & the word "The" will be attached as a single piece.
Materials
Painted, natural, & stained names are made from 1/8" birch. Maple option is 1/4" with a semi-gloss finish. The sides of the letters are dark, silhouetting the name against the wall. 
Attachments

Gorilla wall putty is included to hang, but double-sided tape or nails are both great options. 
Occasion
Weddings, Anniversaries, & Decor for the Feature Wall

Made by
Sticks & Doodles in Regina Saskatchewan. 
Notes. 
Some fonts may have some very thin points when ordered, and our team may very slightly thicken them to avoid the wood breaking when being handled. 
Sticks & Doodles was founded in 2020 by Kyle (that's me!) & Danelle Moffatt in Regina Sk, with the desire to create beautiful custom signs for the most important moments in people's lives!

Since then, we have crafted thousands of signs & ornaments, and in 2022 opened a store & shop at 595 Henderson Drive in Regina.

Now with a team, Sticks & Doodles we continue to produce high-quality wood & acrylic pieces, and love getting to be a part of the lives of our customers!

In addition, we've had the super cool opertunity to work with brands like Hockey Night in Canada, CBC, Cadillac in Beverly Hills, CFL, Saskatchewan Roughriders, Hallmark, & many other amazing local businesses in our community.

Thank you for checking out our family business - it honestly means the world that you're here! 
Guarantee

We guarentee the high quality of every handcrafted product produced in our space! If you have a question, or want more information, please email us at hello@sticksanddoodles.com

Local Pickup

All products can be picked up from our store at 595 Henderson Drive in Regina

Local Delivery

If you're in Regina, White City, or Pilot Butte you can choose local delivery at checkout!

Shipping

Shipping is available worldwide through Canada Post. We offer free lettermail shipping on many of our small items, and you can choose tracked for all signs! The estimated delivery time is automaticaly updated by Canada Post at checkout

Social Media Sharing

Please feel free to tag @sticksanddoodles when sharing your items on social media! We will do our absolutly best to share them on our pages.
We are proud of the products we craft and always stand behind their quality. 

If you have an issue with your order for one of the follow reasons, please notify us within 15 days so we can discuss a replacement or refund. 

1. The products in your order were broken, damaged, or defective

2. There were items that were ordered that were not included in your order

3. Your order is incorrect (size, colours, text, etc)

4. You feel the product was promoted incorrectly or differently from what was described. 

Due to the nature of personalized products, the following cannot be used as a reason to return personalized, or customized items. 

1. Requesting a refund after 15-days of of receiving your order

2. You no longer need the product, or have changed your mind about the order

3. You made an error with your order (size, colours, text etc) *note - if this is the case please contact us anyways and we will see how we can help

4. The product is damaged due to improper handling, or in any other way that is not related to the delivery of the product. *note - always contact us anyways, as damage such as broken lettering on can be fixed

Non personalized or customized products *ready made* can be returned in the original packaging with a receipt. As our products are in other stores in the city, we require a proof of purchase with your order. Consider giving our team your name and phone number when you order so you're order is saved in our system. 

Christmas Return & Exchange Policy. 

December 23rd is the last day to return or exchange Christmas themed merchandise, along with all ornaments & tags until January 15th (which is outside of the return window for products purchased before Christmas. This is to prevent the practice of "decorating and returning". If you received multiple of the same ornaments as gifts and would like to exchange one for a similar in-stock ornaments please contact us. In addition, all products that have a year become final sale on December 23rd of that year. 

To request a refund please contact us at hello@sticksanddoodles.com. Provide as many details and photos as possible. 

If for any reason you are not satisfied, there is a problem, or your item arrived damaged, please contact us directly at team@sticksanddoodles.com

Important - As we get close to Christmas, Free Lettermail shipping will become:
"Free Untracked Lettermail - (May Arrive After Christmas. Choose Pickup, Delivery, or Tracked to Guarantee Christmas Arrival)"

Products with this shipping method may not be returned if they arrive after Christmas. Use this shipping method at your own discretion. 

Seasonal Products

Final Sale as of the date of their holiday. This includes Valentine's, Easter, Halloween, & Christmas Collections

Refunds (if arranged with us)

Some banks handle refunds differently on your credit card's online banking. Authorized transactions may show two charges, or two refunds. Once the transactions move to the statement they will correctly show the amounts in the transactions. 

This product has no reviews yet.